Plantar Fasciitis and Heel Spur Syndrome Introduction

This is the introduction to the more complete book which is available online.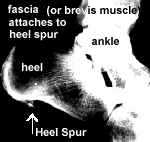 Plantar fasciitis (pronounced PLAN-tar fashee-EYE-tiss) is an inflammation of the plantar fascia ("plantar" refers to the bottom of the foot, "fascia" refers to two different types of connective tissue, and "itis" means "inflammation"). The plantar fascia encapsulates foot muscles, but it has another important function. It is thickest beneath the skin on the bottom of the foot where it functions as a "bowstring" that connects the heel bone to the ball and toes in order to maintain the arch of the foot. It experiences tension that is approximately 2 times a person's body weight during walking at the moment when the heel of the trailing leg begins to lift off the ground. This moment of maximum tension is increased and "sharpened" (it increases suddenly) if there is lack of flexibility in the calf muscles. A certain percentage increase in body weight causes the same percentage increase in tension in the fascia.

The classic sign of plantar fasciitis (which is often confused with or considered the same as heel spurs) is heel pain with the first few steps in the morning (84% of our visitors). If this symptom is not present then the diagnosis of plantar fasciitis has to be checked more carefully. The pain is usually in the front and bottom of the heel, but the definition of "plantar fasciitis" indicates it can be over any portion of the bottom of the foot where the fascia is located. Patients often report that the pain "moves around" to different areas of the bottom of the foot. The pain can be mild or debilitating. It can last a few months or become permanent. The heel may hurt or the condition may become worse from the heel striking the ground, but plantar fasciitis is not caused by the heel striking the ground. Every year, about 1% of the population seeks medical help for this condition (one company claims it's 2.5%).

Plantar fasciitis is related to "heel spur syndrome", but they are not the same. The heel spurs to which this web site refers are on the front and bottom of the heel, not the back of the heel, but many of the ideas presented here may be helpful for dealing with other types of heel spurs and heel pain. Heel spurs are deposits of bone in the plantar fascia near its attachment to the heel that result from repetitive stresses and inflammation in the plantar fascia. Heel spurs are the body's response to injury and inflammation. Since they begin as deposits in tissue ("calcification"), they are often bendable and not hard like bone. Pain probably does not result from heel spurs poking into tissue. Many people have heel spurs and they do not have any pain. A heel spur and/or the plantar fascia may "trap" or irritate nerves in the heel area (if only by inflammation) and cause more pain. It is often difficult and usually unnecessary to distinguish between plantar fasciitis and heel spur syndrome. Causes and treatments (except for surgery and injections) for the two conditions are the same. Many doctors use the terms "heel spurs" and "plantar fasciitis" interchangeably.

These conditions are usually caused by a change or increase in activities, no arch support in the shoe, lack of flexibility in the calf muscles, being overweight, a sudden injury, using shoes with little cushion on hard floors or ground, using shoes that do not easily bend under the ball of the foot, or spending too much time on the feet. The cause is often unknown and mysterious to the patient. It has often been said that those with flat feet or high arches are more likely to get plantar fasciitis (heel spurs). 30% of our visitors indicated they have high arches and 20% indicated they have flat feet. It can run in the family. Arthritis, heel bone damage ("stress fracture"), loss of natural tissue for cushioning under the heel ("fat pad atrophy"), tarsal tunnel syndrome (the foot's version of carpal tunnel syndrome), and other conditions can cause similar foot and heel pain. Many of the ideas presented here can be helpful in dealing with these other conditions.

Despite the claims of various product manufacturers, there is no cure-all. Different combinations of treatments help different people. Patients often learn they need to be an active force in their treatment. Experimenting with several different treatments is often necessary before finding those that help. As in exercising and working out, actively finding a way to enjoy the daily routines that are often helpful can be crucial in continued improvement. Applying ice, stretching, and taping are not inherently enjoyable activities, and it is not always obvious that they are helping. The pain usually increases gradually over weeks or months before help is sought, and improvement once treatment has begun is usually just as slow. Patients often have to be patient. Setbacks are the norm, and simply preventing the daily and occasional minor injuries is crucial if not the cure. A portion of a patient's lifestyle has often caused the pain, and it is that portion of their lifestyle that has to change. Walking and standing on two feet are inherent and defining characteristics of being human (few mammals can do it), so a holistic approach in dealing with heel pain may be necessary.
The most successful treatments reported by our visitors are the following:
heelspurs.com was ranked as the most beneficial "treatment" option, indicating visitors believe information is a key to getting better. But it is also a biased sample: if a visitor took the time to fill out the heelspurs.com survey, then they are more likely than others to be biased in favor of heelspurs.com.
Rest was ranked the number two "treatment". The most important part of my recovery was to finally learn the motto "when in doubt, don't do it" whenever I was wondering if a particular activity was going to make it worse. It takes about 36 hours for many soft-tissue injuries to reach their maximum soreness, so it's often difficult to know when you're overdoing it. Swimming is one of the few safe alternative exercises.
Ice was ranked the third most favorite "treatment". Applying ice after lengthy activities is very important. One method is to place a few pieces of ice on a towel (to absorb the water) and to step on it for 5 minutes (10 minutes is often too long for direct contact). For me, ice directly contacting the skin seems best. Some patients like to keep water frozen in a plastic soda bottle. Others use a bag of frozen vegetables, but I did not think that method was cold enough. It's best to keep the injury cool as long as possible for up to 48 hours after the injury, depending on the severity of the injury. It has been recommended to apply ice every evening immediately after daily activities. Applying ice until the skin turns black and blue could cause frostbite. Keeping a recent injury cool reduces internal "micro-bleeding" and keeps down inflammation. Applying ice for longer periods of time causes vasodilation (blood vessels increase in diameter in order to keep the tissue warm) that may speed healing by improving blood flow, but it may increase inflammation if the injury occured within the last 2 days. Some sources say apply ice for 15 minutes, but that may be too long unless the ice is insulated from the skin by plastic or a towel, or unless the ice is being moved around and not concentrated on a single area.
Stretching the calf muscles without reinjuring the fascia before getting out of bed in the morning and 2 or 3 times a day ranks well.
Tape can be used to give the fascia a rest without reducing activity. See the lengthy discussion in part 2.
Arch support is often recommended by doctors and journal articles, but our visitors did not rank it as high as the above treatments. It may have ranked higher if 10% of our visitors had not been harmed by inserts, presumably because their arch support was too high or rigid. An $80 insert with support that "gives" ranked much better (70% said it helped, and no one reported it harmed them). It can be purchased here. Our visitors' positive and negative comments about it are located here.
Other treatments:
Eliminating morning pain. If there is pain with the first few steps in the morning, the fascia may be getting injured each day. First applying a heating pad and then massaging the bottom of the foot and calf muscles before getting out of bed may help. Gently stretching the calf muscles before walking in the morning is crucial.
Losing weight. The easiest way for me to lose weight is to reduce the size of meals by 1/3 or 1/2 and to not eat sugar or sodas. 200 ug chromium with each meal will even blood sugar levels and may reduce body fat by 1 pound-per-week. Pancreatic enzymes 20 minutes before meals will reduce appetite. Never eating sugar and limiting carbohydrates to less than 30 grams a day is very popular and extremely effective for losing weight, but it is probably unhealthy and the weight quickly returns if the program is stopped. JAMA reports stomach surgery is the most effective method of losing weight.
Anti-inflammatory medication such as aspirin, Aleve, or Ibuprofen (but not Tylenol). The doctor may prescribe one of the new and expensive ($2 per pill) cox-2 pills Celebrex or Vioxx. These may or may not be safer for the digestive system and are still just as dangerous to the kidneys and liver. For long-term use, bromelain (pineapple enzymes) and pancreatic enzymes are reportedly very safe and have research showing that they reduce inflammation. They worked for me within 3 hours after taking them. People are more likely to believe Ibuprofen cream works. It is sold in many countries, but not in the U.S. The most drammatic relief from pain I've experienced is from applying DMSO directly to the skin. I do not know if it is relieving inflammation or just blocking pain signals. It has been reported to be excellent at both. It is available at some health food stores. It appears to cure pain from inflammation (and rheumatoid arthritis) in less than 5 minutes. But it dries out the skin to the point of unacceptable peeling after 10 or so daily applications. It is used in veterinary applications, but the FDA does not approve its use in humans except for interstital cystitis, so no mention of pain relief and anti-inflammatory properties is made on the bottle. A sulfur taste and garlic smell is often present minutes after topical application. Toxicity data I've seen make it appear to be about 10 to 70 times safer than aspirin. Elevation (propping feet up on desk) and compression (by standing on the edge of a thick book for 2 minutes if it doesn't increase the pain) is also useful in reducing inflammation.
Better shoes with an arch support, more cushion, good flexibility under the ball of the foot, and a raised heel, or less heel if you're constantly in shoes with high heels like some boots. Just switching shoes can be a cure (or a cause).
Trying to "walk through the pain" can cause a mild case to become long-term and debilitating. Pain is our body's way of telling us not to do something. Being gentle on the feet for several months until there is no pain and then very slowly increasing activity is often a cure. Do not be fooled about being cured. The pain often comes back in full force.
The most common complaints about doctors in our message board is that they do not seem to understand how terrible the condition can be, or that they make the patient feel as if they are unusual or otherwise at fault for showing up in their office with heel pain. Visitors are frequently very thankful for heelspurs.com because it shows them they are not alone.
To my knowledge, the largest "study" of heel pain, plantar fasciitis, and heel spurs is being conducted here at heelspurs.com. In the first 10 months of the year 2000, we had 2,655 people fill out an 80-question survey. The results are available through an interactive program that enables sufferers to identify and communicate with others who have their same symptoms. This allows them to identify the most successful treatments. The data provides an extensive profile of web surfers who have heel and/or fascia pain. Although one would assume the data is biased towards chronic sufferers who are more willing to complete the survey, one question surveys on the home page gave similar results. 46% of the visitors who filled out the survey had it over a year. Average age was 41. 85% said it's worse in the morning. 24% said it takes less than 5 minutes of being on their feet to cause the pain to increase. 36% did not know what caused it. When sitting, 22% had no pain and 7% had severe pain. The primary type of pain (visitors could choose only one) was sharp (38%), like a stone bruise (30%), throbbing (19%), or dull (10%), but rarely tingling or numb (2%). 37% had injections. 27% who had an injection indicated the pain from the injection was "horrific", but overall, injections were rated as one of the better treatments (even if it is only temporary relief). There are some studies that indicate injections are doing significant harm by increasing the chances that the fascia will detach completely from the heel. Male sufferers weighed 12 pounds above the average American male (which is already hefty) and female sufferers weighed 30 pounds above their counterparts (our data was compared to 1999 CDC data). More than 2 out of 3 visitors are female. 6 out of 7 of our heaviest visitors were female (n=442, BMI>=35). Journal articles report it's in both feet in 15% to 35% of the cases. Our surveys indicated it was in both feet 45% of the time, but only 14% of the respondents said their feet were equally painful. Our visitors ranked podiatrists, physical therapists, and acupuncture better than orthopedic surgeons. 8% of our visitors have had surgery. About 25% of the 267 surgeries reported so far have made it worse, but 40% of them are responding less than 3 months after the surgery, so many of them are likely to improve. If a surgery had made it better, they would not be visiting the web site and filling out the survey, but the same can be said for all the other treatments. About 4% of our visitors have had "devastating" cases ( here are a few examples ).
Black tennis shoes can often pass as dress shoes. New Balance is one of the few brands that often comes in extra wide sizes (2E and 4E) to accommodate high arches, inserts, and a heel lift. Shoe stores often do not have the wider sizes, but there are many places online you can find them (after first checking the styles out in local stores).
If none of the above works the best option is the newly-approved and apparently safe ESWT treatment, but insurance may not pay for it and it can cost as high as $5000. I would not have surgery unless I was able to confirm the success rate and safety that the doctor claims. One only has to review our surgery message board to confirm that surgery should not be undertaken lightly. Depending on the patient, type of surgery, and physician, recovery from the surgery can occur in just a month or two, but it is often (if not usually) 6 months to a year.
The most frequently harmful treatments reported are the various surgeries, hard casts, deep massage, and firm heel pads. Nerve surgery ranked last out of the 46 treatments in the questionnaire because it helped only 37% and harmed 31%, but the number of responses is too small (n=16) to be sure that the results are accurate. Although having the lowest harm rate, tylenol was also the least effective (17%, n=856) presumably because it is not an anti-inflammatory like ibuprofen, Aleve, and aspirin which ranked higher at 49% helped and 3% harmed (n=1688).
heelspurs.com, LLC


Copyright ©, Financial Disclosure, Privacy, Terms of Use